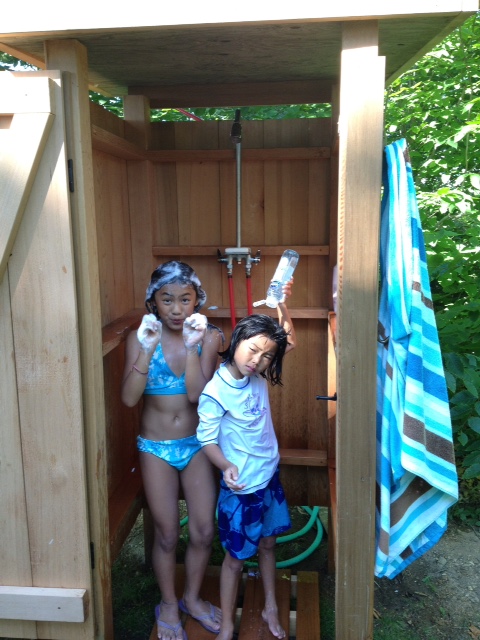 When my wife asked me to install an outdoor shower for the kids to use after being at the beach all day, I decided it would be a great opportunity to construct a solar shower.  Here are the instructions.
Locate an area that gets good exposure to the sun, especially around the hours you hope to use the shower.
I won't go through the steps for building the actual stall itself and will, instead focus on the plumbing.
You will need to purchase:
100 feet of black high pressure garden hose (make sure it can handle high pressure and heat).
Enough garden house to run from an outdoor faucet to the back of the shower.  This does not need to be high pressure.
A small section of garden hose, about 5 feet.  This does not need to be high pressure and can be any color.
A T connection (will connect one hose to 2).
About 10 feet of ½" pex tubing
Buy or rent a cramping tool.
Brass connections for cramping tool to garden hose available at hardware stores.  3 pieces.
Outdoor shower faucet with separate hot and cold connections.
Run the garden house from your outdoor faucet to the back of the shower.
Connect this garden house to the T.  Connect the 5' of garden house to one of the T-s and set aside.
Connect the one of the other brass connections to the other T and then cramp a 5 foot piece of pex to the fitting.  Connect the other side of the pex to your cold water connection and cramp in place.
Build a 2 foot by 2 foot box using 2×4 frame and a plywood bottom.  Coil the black hose inside the box and drill a hole for each side of the hose to poke out the bottom.  Line the bottom of the box with insulating foil.  You will later cover the box with a 2 foot by 2 foot piece of Plexiglas.  The box will sit on top of your shower.
From the other T, connect the 5 foot piece of garden hose and run it up to and connect it to your black garden house.
Connect the other end of the black hose to the last cramp fitting.  Cramp the other 5 feet of pex to this and run it to your hot water side of the faucet and cramp in place.
Except for the construction of your shower you are done.
BE CAREFUL:  The reason you need a cold water side is because the water will get incredibly hot.